Delicious organic coffee to support optimal heart health.
5% of all sales donated to support the Friends of Honduran Children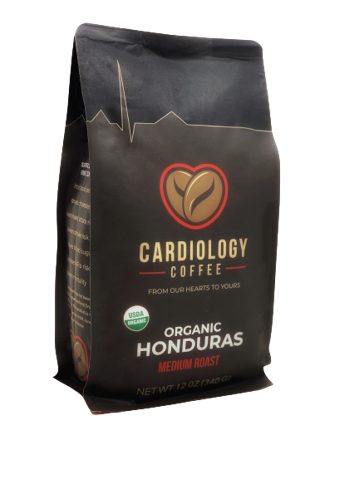 It all started with a desire for great tasting healthy coffee.
The story of Cardiology Coffee began with a cardiologist who loved coffee but hated the pesticides and contaminants in most conventional coffees. From day one, we have focused on heart health, product safety, and great taste. Always organic. Zero contaminants. Rich in antioxidants. Delivered fresh.

Our great tasting organic whole bean coffee is lab tested to ensure it is free of contaminants and is rich in antioxidants for better heart health.
Discover why organic, specialty grade coffee promotes heart health and overall wellness and why most conventional coffees harm your health.
Join our subscribe and save program and never run out of Cardiology Coffee. Save 20% when you subscribe. Pause or cancel at any time
Specialty grade that's always organic
Third party tested to ensure no mold, mycotoxins, or contaminants
We use only premium defect-free organic beans that are specialty grade
Fast shipping and innovative packaging for purity and freshness
Our coffee was developed to the exacting specifications of coffee lover Cardiologist Dr. Jack Wolfson
If you are unhappy with Cardiology Coffee, return the unused portion for a full refund
"I created Cardiology Coffee for coffee lovers looking to optimize their heart health. It tastes great and helps you be healthy, with more energy and without the jitters and stomach upset from most conventional coffees."

Dr. Jack Wolfson
Board Certified Cardiologist
My morning coffee is really much more than a beverage I sip to start my day. This is my life...
Many people move from one cup of coffee to the next to keep their energy up. This begs the question: ...

SUBSCRIBE TO RECEIVE DISCOUNTS & NEWS ABOUT OUR HEALTHY COFFEE