Keto Mocha Panna Cotta Recipe
---
---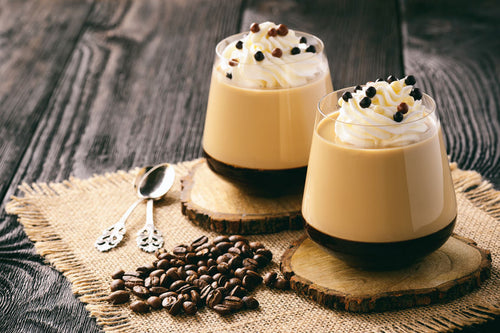 What can be better than the combination of two of my favorite things, coffee and chocolate. 
This creamy keto and paleo-friendly, low-carb  Mocha Panna Cotta recipe combines both of these delectable ingredients into a simple, yet elegant dessert that's sure to please. Feel free to adapt the flavors of the basic recipe - try new flavors (such as coffee/orange, or coffee/cinnamon) or add your own garnishes to make this your own. Enjoy! 
Ingredients:
1 t gelatin
½ c cooled Cardiology coffee
1 c of organic coconut cream
Organic vanilla extract
¼ c powdered monk fruit sweetener or to taste
1/2 t raw cacao powder, plus additional for garnish 
​Garnish with chopped dark chocolate, cacao nibs, extra cacao powder, or whipped coconut cream as desired 
Directions:
Add 1 t gelatin to a small bowl with the ½ c cooled coffee and let it bloom for five minutes.

 
In a small saucepan, heat coconut cream. Do not let it boil, just make it warm enough.

 
Mix in vanilla extract and monk fruit sweetener to desired taste.

 
Take it off the stove and mix in the gelatin mixture until it dissolves completely.

 
Add your hot mixture to a blender and blend on high for a minute for the smoothest texture.

 
In two-three small ramekins or small bowls, pour in the cream mixture and set in the fridge for 3-4 hours or in the freezer for one hour.

 
For the mocha flavor, mix in 1/2 a tsp of cacao powder into the cream before setting and serve with additional garnishes.