Mocha Breakfast Chia Pudding
---
---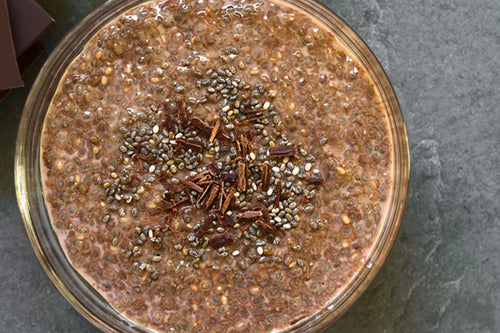 If you're like me, sometimes you get tired of the same old breakfast foods day after day. You are craving something new, but still want to stick to healthy, whole foods. As an added bonus, this recipe can be made the night before to help your morning run more smoothly! 
Decadent, creamy, and filling, my Mocha Breakfast Chia Pudding is a nutrient-dense breakfast that tastes every bit as delicious as it sounds! With a bit of a caffeine boost from my favorite Cardiology Coffee to wake you up and all the nutritional benefits of chia seeds, this is an amazing way to start your day when you're tired of the usual eggs and bacon. It's free of refined sugar and paleo-friendly to boot! 
INGREDIENTS
4 tbsp organic black or white chia seeds
1/2 c organic full fat coconut milk or unsweetened almond milk
1/3 c freshly brewed Cardiology Coffee (regular or decaf)
1 tsp vanilla extract
1 tbsp raw, organic, unfiltered honey or Grade B maple syrup
1 tbsp collagen peptides
2 tbsp cacao nibs
Optional: 2 tbsp cacao nibs, chopped pecans or shredded coconut for garnish 
INSTRUCTIONS
Mix together chia seeds, nut milk, coffee, honey or maple syrup and collagen in a glass bowl. Cover and chill in the refrigerator for 30 minutes.
Transfer mixture to a blender and add in cacao nibs. Blend until smooth. Add in a few more tbsp milk if needed to thin.
Spoon into small bowls and garnish as desired with nuts, cacao nibs or shredded coconut! Serves 2-3.