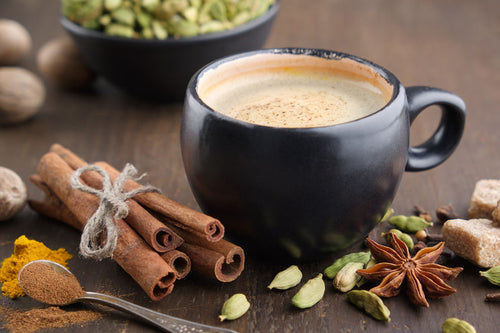 My patients often ask me if they are allowed to drink coffee. They think drinking coffee is bad for their heart and health. This could not be further from the truth.
The truth is, coffee is teeming with antioxidants which provide fantastic health benefits.  Increase those benefits and incorporate some new flavors by spicing it up once in a while.
Just like coffee, spices also have an endless array of health benefits and specific ones are particularly helpful in lowering blood pressure. Let's take full advantage of these antioxidant-rich healing compounds -  and the best part is, you don't need an Rx!
Optional Spices for Your Morning Cup:
Cardamom is one of many spices that is a powerful antioxidant. The terpenes in black cardamom help to lower blood lipids. It restores antioxidant enzymes which fight oxidative stress (contributes to high blood pressure).
Cinnamon is an antioxidant that dilates and relaxes blood vessels. It is also anti-inflammatory. There is a relationship between blood sugar regulation and hypertension, and it is the positive effect on blood sugar   that also assists in lowering the blood pressure.
Ginger has been used for medicinal purposes for thousands of years. Rightly so, as it is antibacterial, anti-parasitic, anti-inflammatory, antiviral and chock-full of antioxidants. The chemical compounds in ginger help to naturally lower cholesterol as well as low density LDL, both of which contribute to high blood pressure. Ginger is full of micronutrients and phytonutrients which  support healthy blood pressure. 
Nutmeg is rich in calcium, magnesium and potassium which are all used to manage high blood pressure. It relaxes blood vessels and is a powerful antioxidant, both of which help the functioning of the heart. This spice relieves inflammation and improves blood circulation. It is best to grate from the whole nutmeg. 
If you are interested in spicing things up a bit, try  some of these suggestions.  Feel free to experiment with the amounts  according to your personal tastes.
Spiced coffee: 
Mix in any or all of the above spices into your coffee grounds and prepare coffee as usual. Start with ¼ - ½ tsp in total and go from there. 
Morrocan flavor: use all of the above spices plus clove and black pepper. 
Cinnamon with vanilla extract is a fantastic option blended with coconut cream! 
However you enjoy your coffee, be sure that it is Cardiology Coffee: organic and mold and toxin free.