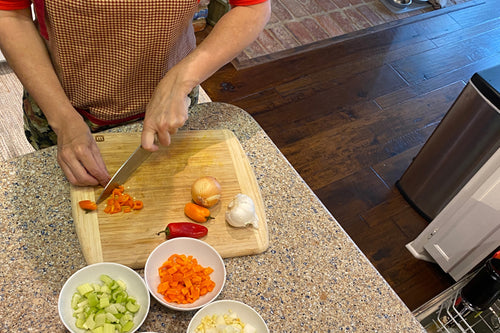 I love chili. Not only is it delicious, but it is super-easy to make a ton of food for the family and more. You can freeze the leftovers too (if there are any).
I hail from Texas, and in my state it is no joke that we are fiercely competitive about our chili.  Each and every family seems to have their own secret family chili recipe, and they will insist that their version is the best. Chili preferences are highly personal, inspiring the many well-attended chili cook-off competitions amongst neighbors and friends alike. Disagreements can ensue as to whether or not "real" chili uses beef or bison, whether to include certain spices or whether chili should even be called chili outside of Texas!
Whatever your personal tastes gravitate to, this tried and true recipe adds a bit of something for everyone and is highly adaptable to different palates. I include onion, carrot and celery, but often sneak in extra leftover chopped veggies of all types for extra nutrient density. Omit the beans for a true Paleo dish, and decrease or increase the amount of hot sauce and spices for you sissies up north. I love having my dinner guests try to guess the intricate flavor makeup here that stems from the addition of two of my favorite foods- coffee and chocolate! What a great way to use up any leftover coffee in your pot. I encourage you to try this tonight!
Texas Chili With A Twist
Organic Ingredients:
2 tablespoons coconut oil 
1.5 pound ground bison or grass fed ground beef (find the best at Crowd Cow)
1 large onion, finely chopped
3 stalks celery, finely chopped
½ green or red pepper, finely chopped
3 medium carrots, finely chopped
3 cloves garlic, minced
1 14 1/2-ounce can diced tomatoes with juice
½ cup brewed Cardiology coffee, cooled
12 oz salsa (medium)
dash of hot sauce (to taste) 
1 tbsp chili powder
1 tbsp cumin
1 tbsp raw cacao powder
1 tbsp oregano
1 ½ teaspoons ground coriander
¼ tsp cayenne pepper, or to taste
1 tsp ground black pepper
1 tsp sea salt, or to taste
1 can pinto beans (omit for Paleo)
Directions:
Heat a large dutch oven over medium heat. Add coconut oil. Saute meat, onion and garlic until meat is browned. Add remainder of ingredients (except beans, if using). Combine gently with a spoon. Cover and bring to simmer, then turn down to medium-low and simmer for 30 minutes. Let each person spoon chili into a bowl and top with desired optional toppings (see below). Alternatively, place all items in a crockpot, stir, and heat on high for 4 hours. Enjoy!
Optional toppings: sliced avocado, finely sliced green onions, fresh chopped cilantro, lime wedges, shredded raw cheddar cheese, grain-free tortilla chips such as Siete.